'18 - 8' STAINLESS STEEL SURGICAL NEEDLES
The anatomy of a surgical needle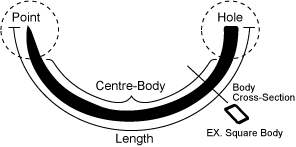 18 - 8 Stainless steel was developed in Japan specifically for the manufacture of end-drilled eyeless surgical needles. Highly advanced metallurgical technology was used to develop this superior austenitic steel.
The material can be precisely sharpened on the points and cutting edges, and when polished, the material has a bright lustre. The extra-smooth finish dramatically reduces the resistance of the needle passage through tough and dense tissue.
18 - 8 needles are tempered to ensure flexibility and ductility.
Scimitar has a comprehensive range of needle types, shapes and sizes to meet the surgeon's suture requirements. These are attached to 12 different material types.





Flat body needles are used on soft, easily penetrated tissue. The body of the needle is flattened to improve the grip of the needle holder and stabilize the needle.
Taper Point Needles: Fine body needles used for cardiovascular and vascular surgery.


Taper Point Needles with a cutting tip
This needle has a tapered body with a sharpened cutting tip. Used on tough tissue where a cutting tip is required.


Taper Point Needles with a blunt point
The needle has a round body with a rounded blunt point. These needles were designed for use on friable tissue, like the liver, and their use has been extended to cover accidental puncturing of surgical gloves, and needle stick. This gives the surgeon some added protection when working on Aids related patients.


The cutting edge is on the outer curve, used on tissue that is tough and difficult to penetrate. An additional honing process is carried out on needles used for plastic and cosmetic surgery.


Conventional Cutting Needles
These needles have two opposing cutting edges with a third on the inside curve of the needle. The body of the needle is flattened.


Micro-optic Spatula Needles
This needle is used in ophthalmic anterior surgery, where the needle needs to be thin and flat and very sharp, to ensure easy passage through tissue such as cornea and sclera.
Micro-Optic Reverse Cutting Needles: The cutting edge is on the outer curve, and these very sharp, honed needles are ideal for ophthalmic surgery.